Alejandro Bernal
Detrás de la montaña 
Detrás de la montaña hay más montañas
Ondas para una escucha honda
Luz de la hondonada
Frecuencias que resuenan bajo los pies
Sonidos que trajo el azar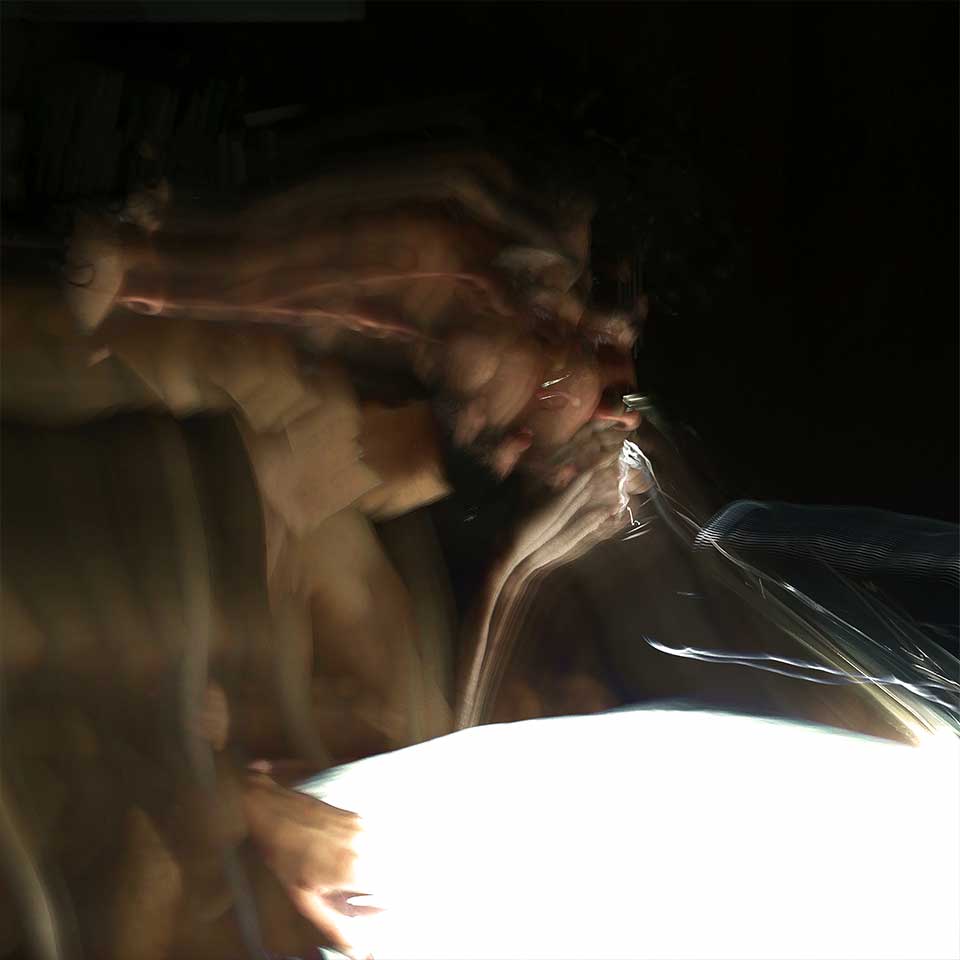 ESP_
Alejandro Bernal es un compositor, diseñador sonoro y multiinstrumentista latinoamericano que ha navegado estilos eclécticos, además de ser fundador de importantes proyectos en Colombia. En tiempo reciente, ha girado el mundo con su música y a la par desarrollado expansivas dilataciones de la música experimental que dialogan entre las líneas accesibles, las pistas de baile y los sonidos más extendidos.
Así surge la creación de 'Detrás de la montaña', un nuevo trabajo en solo de su faceta más experimental: con sonidos que abarcan desde lo etéreo hasta lo concreto mediante detalles sutiles. Música abstracta en su máxima expresión, como una navegación aural y geográfica en relieves y bosques plateados, la metáfora de la forma natural y la exploración concisa de ritmos mentales: este álbum indaga en profundas sonoridades y en océanos psicoacústicos, dando luz hacia formas amplificadas que difuminan horizontes.
Desde Medellín, Alejandro Bernal entrega su debut internacional para OTONO, un álbum compuesto en su lugar de origen con una parte realizada en México en colaboración con el productor alemán Raz Ohara, quien suma un dinamismo substancial y en conjunto llega a un punto alto del avantgarde con tintes de ruidismo, dark ambient y secuencias IDM–; el resultado desafía los terrenos de la electrónica y los mares contemporáneos.
ENG_
Alejandro Bernal is a composer, sound designer and Latinx multi instrumentalist that has drifted through styles and oscillated between textures. He is also the founder of several important projects in his native Colombia. In recent times, he has toured the world with his music and developed a dialogue between the accessible, the dance floor, experimental, and extensions both between and beyond them.
His solo debut, 'Detrás de la montaña', reflects his more abstract side. Its sound encompasses both the ethereal and concrete through subtle detail. Abstract music in its full expression, like an aural and geographic navigation through silver lineages; the metaphor of the natural form and the concise exploration of mental rhythms: this album explores profound sonorities and psychoacoustic oceans, giving birth to amplified forms that blur horizons.
This is Alejandro Bernal's international debut for OTONO and was composed in his home of Medellín. It includes a track recorded in Mexico in collaboration with German producer Raz Ohara which adds a dash of substantial dynamism, taking the listener to some of the most advanced terrains of the avant garde with hints of noise, dark ambient and IDM sequences that defy the conventions of electronic music and its contemporary seas.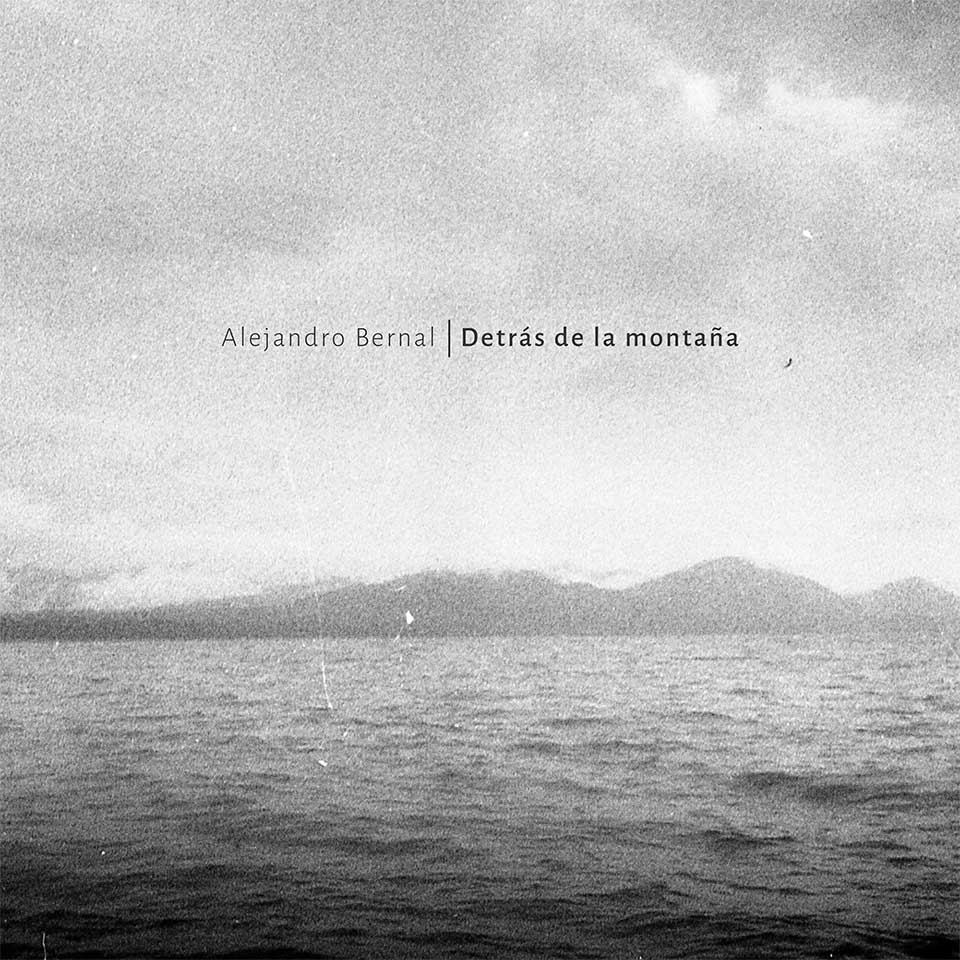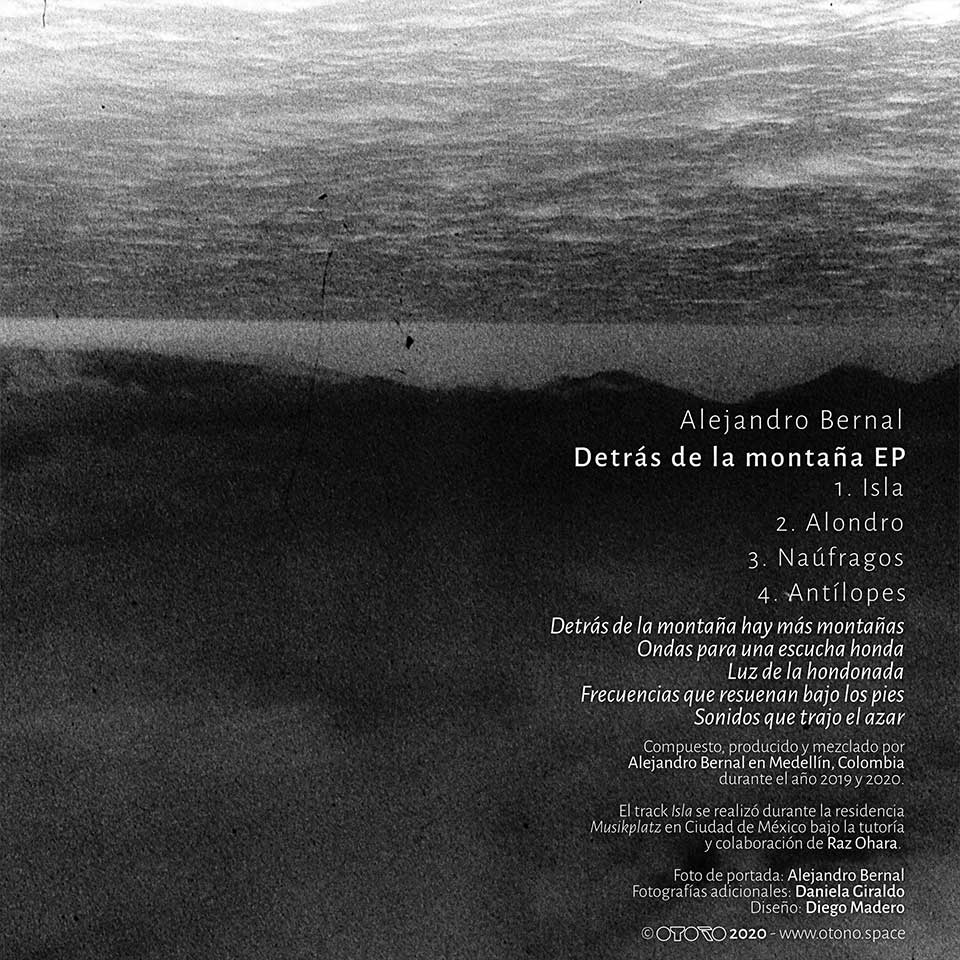 Release Date: November 21st, 2020
Composed, produced and mixed by Alejandro Bernal in Medellín, Colombia.
Track "Isla" done during the Musikplatz residency in collaboration with Raz Ohara.
Cover photography by: Alejandro Bernal
Additional photography by: Daniela Giraldo

Mastered by Brian Williams «Lustmord»
OTN013-2020